Gum care / Periodontology
Diseases that affect the gums, roots and bones around the teeth are called periodontal diseases. They are caused by the build up of dental plaque and tartar.
THE DIFFERENT STAGES OF A PERIODONTAL DISEASE
Patients with good oral hygiene and no risk factors (e.g., smoking) should have very healthy gums that are pink and that do not bleed during brushing.
Poor oral hygiene can allow dental plaque and tartar to build up and lead to inflammation of the gums (gingivitis).
In this case, the gums are red and swollen and they bleed during brushing.
If the inflammation persists, the bone encasing the roots of the teeth will gradually break down, resulting in the teeth becoming loose. This inflammation of the gums and loss of bone material is a disease called periodontitis.
If the inflammation is not treated, it will totally destroy the bone around the teeth.
The teeth become looser and looser and eventually fall out.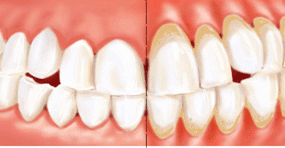 Healthy Mouth                        Periodontal disease  
TREATING GINGIVITIS AND PERIODONTITIS
Treatment for these diseases is based on rigorous oral hygiene.
The main treatments are scaling and periodontal deep cleaning, an operation done under local anaesthetic in order to clean and disinfect the surface of the roots infected by the disease. We will offer a personalised treatment plan based on your age and the seriousness of your periodontitis.
Elimination of other causes of periodontitis (tobacco, position of the teeth, etc.)
Verification of how effectively you brush your teeth
Deep cleaning of the infected roots.
Medical treatments, depending on the disease (antibiotics, antiseptics, etc.)
Maintenance: Regular appointments to monitor the progress of your gum disease.
THE GOAL OF THIS TREATMENT IS TO:
stop the inflammation
prevent further recession of the gums
Promote good oral hygiene to ensure long-lasting results.