Dental prostheses
Dental prostheses are used to restore damaged teeth or replace one or more missing teeth.
FIXED PROSTHESES
Fixed prostheses are held in place permanently by attaching them to a tooth or a dental implant.
They are aesthetic, durable and comfortable. Crowns, bridges and inlays are types of fixed prosthesis.
A crown is a cap that covers the visible part of a tooth.
A tooth that has a large area of decay or that is cracked may be "devitalised".
Due to the loss of dental tissue and the devitalisation process (which dries and weakens the tooth), the only way to save tooth is to fit a crowned.

           Crown placement                                        Crown in place
Crowns can be made from different materials, the most popular being ceramics (the most aesthetic option) and metal alloys.
A bridge is a way of replacing one or more missing teeth via a prosthesis attached to the remaining teeth.
Bridges can be made from different materials, the most popular being metal alloys and ceramics.
It is important to replace missing teeth in order to prevent adjacent teeth moving due to a lack of support. Missing teeth can also be replaced by dental implants.

      A tooth missing                                     Bridge placement
Inlays/onlays are pieces of composite resin that are used to repair damaged teeth. Each inlay/onlay is made-to-measure by a dental laboratory so it embeds exactly into a previously cleaned and prepared dental cavity in such a way as to restore the natural shape of the tooth.
Thus, an inlay/onlay is a way of durably consolidating the remaining part of a tooth. Unlike classic filling techniques (amalgam, composites, etc.), inlays/onlays do not put any pressure on the walls of the tooth, so it is less likely to break.
This technique can be used to repair slightly to moderately damaged teeth. In the case of more extensive damage, it may be necessary to consider a ceramic crown.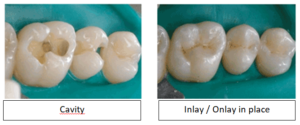 DENTURES
Dentures are removable prostheses for replacing missing teeth. They may be complete or partial, depending on the number of teeth that are missing. They are supported by both the gums and any remaining teeth.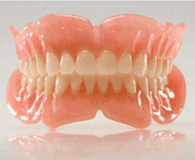 Complete upper and lower dentures
Complete dentures are held in place by the suction effect exerted by the film of saliva between the denture and the gum.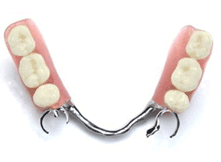 Partial lower denture with a metal or stellite base.
The problem of dentures not staying in place can be overcome by inserting dental implants.
All our crowns and dentures are made by dental laboratories in Villeurbanne (69), Bron (69) and Tigneu (38).
They come with "Label D" quality certification and comply with the EN ISO 13485 Annex II standard.